Chiropractic Care
Imagine feeling your best without the use of drugs or surgery? With safe, natural and effective chiropractic care, you can experience pain relief and so much more. We believe that when the back is working right, the body will often begin to function properly again.
Help for Many Conditions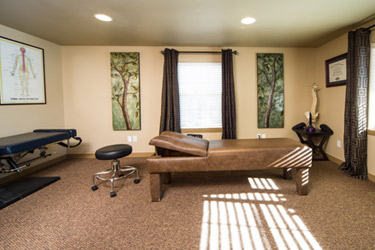 Chiropractic is helpful for a myriad of common conditions. These include:
Back pain
Headaches
Neck pain
Shoulder pain
Sciatica pain
Hands-on Diversified
When Dr. Craig first saw a chiropractor at age 11, he could feel and hear his back release. Though he has been adjusted with other techniques over the years, the Diversified Technique innately felt right to him. That's why he mainly uses it on his patients. "As Diversified is a hands-on adjustment, patients can directly feel what I've done. It always seems like the most direct and effective path to solving their problems."
Feel at Ease at Craig Chiropractic
Since 2000, Dr. Craig has safely and effectively adjusted his many patients without any issues. If you hear a sound while getting adjusted, it's similar to what you would hear when popping your knuckles. The sound is made by separating the joint surfaces, helping them move more freely. If you don't want to have your neck manually adjusted, that's completely fine. We also offer instrument-assisted adjusting with the Activator® that works well. "For patients who don't want their neck adjusted, I say, 'Pretend you don't have a neck and let's work on everything below it.'" Rest assured, that we will never do something that you don't want to have done.
Discover the many benefits of chiropractic care.
Contact us today
to book an appointment. Be sure to ask about our New Patient Offer!
---
Chiropractic Care | (541) 330-6581